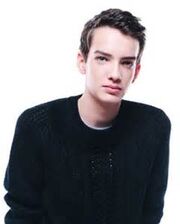 Matthew Hart is a seventeen year old male from Nightview Falls. He is the son of Lewis and Christine Hart and is Fantasy Blue of the Power Rangers: Fantasy Knights. He is portrayed by Kodi Smit-McPhee.
The star of the swim team who is mostly known around school by his nickname, "Seymour", Matthew loves the water. He loves it so much, that being in or out of water drastically changes his mood. Tough, antisocial, and a bit impulsive, Matthew likes to take charge and do things his own way. While he isn't always the best team player, deep down Matthew knows the value of working together and he cares about his friends.
Abilities
Edit
As the Blue Ranger, Matthew wields the power of Water magic.
Fantasy Morpher-The main morphing device of the five core Fantasy Rangers. By calling out, "Fantasy Knights, Call to Arms!", Matthew can transform into Fantasy Blue.
Fantasy Striker-The main sidearm of the Fantasy Rangers, it is a silver gunblade-esque weapon with two modes-Sword Mode and Gun Mode.
Dragon Broadsword-Matthew's signature weapon, it is a Dragon-themed broadsword. It can be combined with the other Rangers' signature weapons to form the Fantasy Buster.
Dragon Zord-Matthew's Zord, also referred to as a Familiar. Can combine with the other Zords to form the Fantasy Knight Megazord.
Lewis Hart-Ex-Husband of Christine Hart and Father of Matthew. A fishing boat captain, Lewis once took his son on a fishing trip when he was five. During the trip, Matthew had a near-death experience when he was thrown overboard, and despite his survival, the stress of almost losing their child caused a rift in Lewis and Christine's relationship and they divorced a few years later. He rarely sees his son, as he overworks himself to ease the pain of his failed marriage and almost losing Matthew.
Christine Hart-Ex-Wife of Lewis Hart and Mother of Matthew. After divorcing their husband due to a rift in their relationship caused by Matthew nearly dying on a fishing trip, Christine moved further inland with her son in an attempt to keep him safe. However, Matthew soon became very hollow due to the absence of water, and his mother moved back to prevent his depression from worsening. No matter what, Christina is dedicated to keeping her son happy, even if it means moving back to her ex-husband's town.
-When Matthew was five, he almost drowned on a fishing trip with his father. Against all odds, he managed to swim to safety and washed up on shore days later, a little wet, but very much alive. This makes Matthew the first ranger to have had a near-death experience during their childhood.
-He loves swimming, and has a general obsession with the ocean. Due to this, his friends on the swim team call him "Seymour".
-He was created by AquillatheEagle.
Community content is available under
CC-BY-SA
unless otherwise noted.