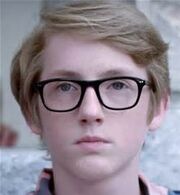 Patrick Ziktor is a sixteen year old male from Nightview Falls. He is the youngest son of Hayley Ziktor and is Fantasy Red of the Power Rangers: Fantasy Knights. He is portrayed by Marin Lafitte.
The leader of the team, Patrick is very intelligent and has a great love for knowledge. He loves literature and science, and is fascinated with most subjects related to them. He may not be the strongest, but he makes up for that with his immense courage and determination to his causes. An introvert at heart, he can be rather shy, but this doesn't stop him from being close with his newfound friends. However, he still feels insecure due to his shyness, and is deathly afraid of being abandoned.
Abilities
Edit
As the Red Ranger, Patrick wields the power of Fire magic.
Fantasy Morpher-The main morphing device of the five core Fantasy Rangers. By calling out, "Fantasy Knights, Call to Arms!", Patrick can transform into Fantasy Red.
Fantasy Striker-The main sidearm of the Fantasy Rangers, it is a silver gunblade-esque weapon with two modes-Sword Mode and Gun Mode.
Phoenix Crossbow-Patrick's signature weapon, it is a Phoenix-themed crossbow. It can be combined with the other Rangers' signature weapons to form the Fantasy Buster.
Phoenix Zord-Patrick's Zord, also referred to as a Familiar. Can combine with the other Zords to form the Fantasy Knight Megazord.
Michael Emerson-Husband of Hayley Ziktor and Father of Kyle and Patrick. Went missing shortly after Patrick was born; presumed to be dead.
Hayley Ziktor-Wife of Michael Emerson, and Mother of Kyle and Patrick. Co-mentored the Power Rangers: Dino Thunder with Thomas "Tommy" Oliver in secret before moving to Nightview Falls shortly after to raise her two sons.
Kyle Ziktor-Oldest son of Hayley Ziktor and Older Brother of Patrick. Like Patrick, he is very intelligent and at the top of his class. Unlike Patrick, however, Kyle is very outgoing and happy-go-lucky, being one of the most popular people in his grade. He and Patrick have always been close but unbeknownst to Kyle, Patrick feels abandoned by his older brother and has ever since Kyle started hanging out with the "in" crowd.
-He is the son of Hayley Ziktor, the co-mentor of the Power Rangers Dino Thunder. He was born in Reefside.
-His favorite book is the J.R.R Tolkien classic, "The Lord of the Rings". His favorite character is Boromir.
-He seems to have feelings for Alice "AJ" Jane, the Pink Ranger of the team.
-He was created by AdamTheMetroidNerd.
Community content is available under
CC-BY-SA
unless otherwise noted.